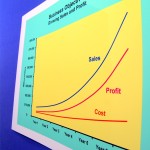 Tight profit margins are the norm for many businesses. Consequently, small to medium sized business entrepreneurs constantly investigate ways to balance reducing their overheads without compromising service.
This article introduces five tips to help you to address this problem.
Review Your Business to Identify Inefficiencies
You should always be searching and investigating opportunities to streamline your business to make it more efficient. Look for ways to reduce time wasted on correcting mistakes or on duplicated activities. Look for ways to reduce waste. Try to group certain activities. Encourage your team to identify ways to save money and time and reward them when they do.
Embrace Technology
There's countless cloud-based and desk-top technology available that help to automate many repetitive accounting and administration activities. Accounting & payroll software, email management, marketing and document storage systems are all helping business owners manage their businesses more efficiently. But how do select the right software or service? Ask yourself:
*  What activities or tasks do I hate doing the most that could be replaced with technology?
*  What activities or tasks do I spend the most time on and prevent me from doing the things I enjoy most?
Your answers will probably indicate how you could embrace technology and improve your margins.
Outsource to Reduce Overheads
Technology may not always be the only solution. Outsourcing your repetitive or non-core activities to organisations who specialise in doing them offers another option to reduce overheads. Many astute entrepreneurs are joining this trend and outsource their accounting, payroll, administration. They accept that others will these activities more efficiently, leaving them more time to focus on activities they enjoy doing and which offer a better return on their time.
Cancel Services You're Not Using
Often, one solution to reduce overheads and improve margins is obvious. Review the services you're paying for and re-evaluate whether they're adding value to your business. Consider shopping around for a comparable service that's cheaper. It's easy to over-look services that are no longer needed or being used – especially if you have set up automated payments or direct debits and you don't look at your bank statements. Consider cancelling a service that you haven't used for 3 months.
Pay Your Taxes and Supplier Invoices Promptly
We encounter many entrepreneurs who are so busy that they overlook a very obvious tip to save money. Paying tax a
nd credit card balances on time will often avoid interest and late fees. Similarly, many suppliers offer prompt payment discounts which, if taken advantage of, could result in a more than just a few cents/pennies being saved.