Successful business entrepreneurs know what their break-even point is. The break-even point is a popular accounting concept. It identifies how much revenue is required and/or the number of units that need to be sold for a business to cover its expenses. Beyond the break-even point, a business begins to generate profit.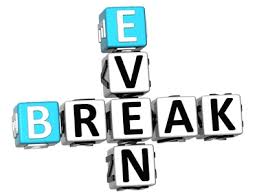 Your business' break-even point is not permanent. It will alter as your expenses vary and when your business grows. Your break-even point is an indicator that you should continue to monitor as your business changes. Use it to review your pricing, sales targets and overheads. Analyse it to see if you can generate profit earlier by classifying your expenses into fixed, variable expenses and discretionary to identify if you have flexibility to defer or change them.
Your break-even point may identify issues with your existing pricing strategies. Increasing your prices is likely to generate profits earlier but your customers may not tolerate increased prices. For example, if you own a café and increase the price of a coffee above your competitors' prices you may lose customers which is counter-productive. On the other hand, if you're a car mechanic and your prices are substantially lower than your competitors a small increase may be tolerated.
Share your break-even point with key members of your team to motivate them and to inform them of what's needed to generate profits. If your strategy is to increase sales volumes, set targets for your sales teams and monitor the effect increased sales has on your break-even point.