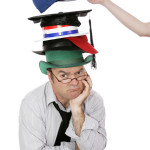 Irrespective of what type of business you operate, if you're a newbie start-up business, you're juggling many hats. You may be doing everything in the beginning – even if you have a business partner or family to call upon, chances are you've resisted recruiting staff as cash flow is tight.
If you operate in the services industry, you might be the technician who provides the service. You may also be the administration assistant, book-keeper, sales manager, receptionist and IT manager. If you sell products, you're also likely to be the purchasing manager, assembly worker and dispatch clerk!
There are only 24 hours in a day and the demands of each role are tough. It's a long list. Additionally, most entrepreneurs have family commitments. The daily slog is often unglamorous and your goals of earning mega dollars seems light years away. The strains and stresses impacts health and family life.
You may have to invest significant time and money in learning new skills to help you run your business properly and profitably. You may have enrolled in a business class at your local college and immersing yourself in countless business and entrepreneurship books. You may have a business mentor and a team of professional advisors. You may have to recruit part-time support to do some of the administration work. You might consider enlisting professionals to give you expert advice on matters such as structuring your business, tax advice, and protect your intellectual property.
If you can charge $75 per hour for your service and you can hire someone for $25 per hour to do the work, shouldn't you hire someone to do this for you? If you waste 10 hours each week on your accounting and book-keeping when a competent professional could do it in a ¼ of the time, wouldn't it make more sense to get them to do it? Couldn't you use the spare time more effectively on other important tasks that you're good at or prefer doing? It's widely acknowledge that 80% of new businesses fail within 5 years. Poor cash flow and the owner trying to juggle many hats but mastering none are primary reasons for failure.
Many entrepreneurs have no formal training in how to operate a business. They decide to leave employment and work for themselves. For some, many of the skills required come naturally…some will be learned. But successful entrepreneurs know that wearing many hats at the same time can lead to the slippery slope of business failure. They know what to delegate to others and which hats they should wear. How many hats are you wearing?